The Organic Theater Factory is proud to present another Central Valley premiere: Adam Gwon's Ordinary Days. 
Starring the best Fresno theater has to offer,  this refreshingly honest and funny musical about making real connections in the city that never sleeps (but probably should at some point) is guaranteed to make you laugh, cry and have a great time.
Ordinary Days tells the story of four young New Yorkers whose lives intersect as they search for fulfillment, happiness, love and cabs. Directed by Anthony Taylor and performed by Terry Lewis, Taylor Abels, Ashley Taylor and Dominic Grijalva; Adam Gwon's vibrant score rings startlingly true to life.
Ordinary Days is an original musical for anyone who's ever struggled to appreciate the simple things in a complex place. With equal doses of humor and poignancy, it celebrates how 8.3 million individual stories combine in unexpected ways to make New York City such a unique and extraordinary home.
Produced, directed and performed with local talent and resources, this Central Valley premiere can't be missed.
Ordinary Days runs Nov 30-Dec 8 at The Voice Shop at 1296 N Wishon Ave in the Tower District. Buy your tickets by clicking the button below. See you there!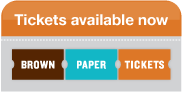 The OTF Facebook

What are you looking for?